Vivekananda Institute of Yoga Therapy
ARUTPERUNJOTHI YOGA HEALTH AND EDUCATIONAL TRUST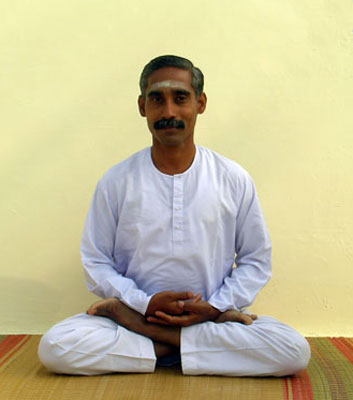 Dr. Madhavan Munusamy
belongs to the South-Indian branch of Swami Sivananda tradition of yoga. Yogacharya Madavan is Bachelor of Ayurvedic Medicine and Surgery from Venkatramana Ayurvedic Medical College (Chennai); he also received a Post Graduate Diploma in Yoga Therapy from Vivekananda Yoga Anusandhana Samsthana in Bangalore and attended the Sivananda Yoga Vedanta ashram TTC and Advanced TTC courses. He was initiated by Swami Chidananda Saraswati (1916 - 2008), a disciple of Swami Sivananda, who was President of Sivananda ashram in Rishikesh. While teaching, Dr. Madavan also follows
Tirumandiram
, the ancient sacred Tamil scripture. He was instructed in it by his father, who practises yoga and meditation throughout his life. Dr. Madavan's Institute is registered by the Government of Tamil Nadu.
Yogacharya Madhavan is an expert in pranayama and yoga therapy, and his yoga students are frequent champions of International Yoga Festival run by Swami Gitananda ashram, Puducherry (Pondicherry).
Classes for foreign students.
Asana classes in English are conducted by senior instructors of Yoga Institiute, direct diciples of Yogacharya Madhavan. Pranayama classes are conducted by Dr. Madhavan himself.
M. Madhavan also taught many instructors of Ashtanga Yoga Center (Moscow and St.Petersburg, Russia) shatkarma and pranayama practices. Every year he gives workshops and TTC classes in Moscow and other Russian cities, as well as in ex-USSR countries. He also teaches TTC courses in Hong Kong and Singapore.
In Yoga Institute you can practise asanas in Sivananda Yoga style, study shatkarmas (traditional yogic cleansing practices) and yoga philosophy. If you can perform shatkarmas, have some asana expirience and follow vegetarian diet, if you do not take alcohol or other intoxicants and follow traditional moral rules of Yama and Niyama, you can study practise of yogic breathing - Pranayama. Pranayama classes will be given to you if you are ready for them, by decision of Yogacharya Madhavan. Yogacharya has rich experience in yoga therapy, especially in curing asthma.
Morning classes start at 6 a.m., evening classes at about 5 p.m.
One week course (two classes per day) - by appointment.
Individual pranayama and yoga therapy private classe.
Adress of Yoga Institute (Dr. Madhavan's house) -
Karur, South Street, 95
. Sometimes rikshaws or taxi drivers don't know the English name of the street, so it's better to use its Tamil name -
Tirku street, 95
.
Rikshaw from railway or bus station should cost not more than Rs. 50.
Sometimes Dr. Madhavan is out of the city.
You can ask his schedule beforehand by e-mail: viytyoga @ gmail.com
or call
+
91 994 495 38 63
Dr. Madhavan
on Facebook
(check rarely)
HOW TO GET KARUR

Karur is situated in the central part of Tamil Nadu, a South Indian state. It has railway and bus stations. You can easily get to Karur by local bus, train or taxi from neighbouring cities: Trichy, Salem, Erode (it takes approximately 1.5 hours).
The closest airports are in Coimbatore (about 2 hours by bus or taxi from Karur, taxi is about Rs. 2000) and Trichy (Thiruchirapalli).
From Bangalore you can arrive to Karur by comfortable sleeper buses. Bus starts in the evening from Kailasipalayam street, its NOT a Government Bus Station near Railway Station, but street full of travel agencies about 20 min by rikshaw from Railway station, 50-60 rs.
Online tickets Bangalore-Karur (all buses to Madurai going via Karur) available on the website of
SRS Travels
company
www.srsbooking.com
Bus arrives to Karur about 4 AM, but rikshaws usually are waiting near bus stop even at that time and could take you to guesthouse.
From Mysore
there are two night trains to Karur, but you need to buy tickets at least one week advance - usually trains are full. Look at Indian Railways website
www.indianrail.gov.in
From Pondicherry you can get sleeper bus to Trichy, and then catch a local bus or taxi to Karur.
Karur
is a small town - local people are friendly, but not so many of them speak English. Ladies should follow Indian dress code - shoulders should be covered, skirt or trousers should cover knees. If you are dressed properly you can visit ancient Shiva and Shakti temples of Karur. We recommend you to visit the biggest Shiva temple -
Ishwara Temple of Karur
, which is about 2000 years old. But remember that Karur is not a tourist place and there is nothing to do except yoga practice. There are few ATMs and Western Union in Karur, but cash foreign exchange is difficult to find - so better change your money in advance in some big city.
There are two guesthouses in walking distance from the Yoga Institute:
Budget option -
Arasee Lodge
, Jawahar Bazar, 506.
Phone: 984 291 00 22.
Double room starts from Rs. 350. Ask discount for Dr. Madhavan yoga students. They also have more expensive AC rooms.

Delux hotel Hemala, Police Line Street, 9.
Single room starts from Rs.1200. They have WiFi and a clean AC restaurant.

Wish you good yoga practice!